Aquarius horoscope today Wednesday, December 6, 2023:
Aquarius, today's trine between Venus in Scorpio and Saturn in Pisces prompts a harmonious blend of your innovative spirit with a newfound appreciation for emotional depth. This alignment touches upon your sectors of career and personal philosophy, suggesting that your professional life could benefit from a touch of emotional intelligence and intuition. Don't shy away from incorporating your unique vision into your work; the influence of Venus encourages creativity, while Saturn ensures that your ideas have practical applications. It's an opportune moment to take a calculated risk or to stand by your unconventional methods. In terms of personal growth, you might find yourself exploring teachings or philosophies that provide a framework for the more mysterious aspects of life. Let yourself explore these depths—there is much to be gained from the synthesis of the material and mystical.
With Neptune resuming direct motion in your financial sector, Aquarius, the uncertainties or complexities surrounding your material resources are poised to become less baffling. If you've been navigating through a period of financial ambiguity, Neptune's direct path offers a beacon of intuitive insight, guiding you toward more solid ground. It's an opportune moment to reflect on your values and to align your spending with what truly feeds your soul. This phase also encourages a creative approach to income and possessions, urging you to consider the spiritual worth of your investments, not just their monetary value.
Visionary Aquarius, with Mercury in your sector of subconscious thoughts forming a trine to Jupiter, your insight has the power to tap into the collective zeitgeist. Your dreams and intuitions may be potent sources of inspiration, and it's a favorable time for any activity that requires thinking outside the box. Unexpected wisdom could come from quiet reflection or meditation. The philanthropic side of Jupiter might also inspire you to engage with community work or group projects that have a humanitarian angle. Keep your mind open to sudden flashes of brilliance that could illuminate your path.
More horoscopes for Aquarius:
Learn more about the Zodiac Sign: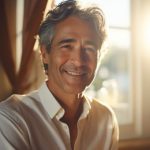 John Anderson is a seasoned astrologer and a key part of the AstroDiem team. Specializing in natal astrology, John blends his education in Philosophy and Psychology to interpret celestial influence on human life. With over two decades of experience, his insights have proven invaluable to individuals worldwide, helping them understand their personalities and life patterns in the light of astrology.