Aries horoscope today Wednesday, December 6, 2023:
Today, Aries, the passionate energy of Venus in Scorpio aligns harmoniously with the stable presence of Saturn in Pisces, promising a day where deep connections can become more profound. Your fiery spirit may find solace in emotional depth, urging you to cultivate patience and trust in your personal relationships. It's an excellent day for long-term commitments, be they professional or personal. Embrace the grounding energy, and you might just find that your typically quick-paced life has room for a steady and transformative love, whether it's romantic or platonic. Reflect on your boundaries and consider this a favorable time to build bridges with loved ones, thanks to the lasting structures Saturn encourages.
As Neptune resumes its direct path through Pisces, Aries, you may feel a subtle shift in your emotional waters. The dreamy planet encourages you to dive beneath the surface, especially when it comes to your spiritual and creative pursuits. Now is the time to let go of illusions within your professional aspirations and embrace a more authentic vision of what you can achieve. Your innate leadership skills could be put to the test as you navigate the nebulous waters of your ambitions. Remember, the most powerful insights often come from the quietest moments of reflection.
Oh brave Aries, as Mercury trines Jupiter, your ambition is your compass, and it points towards success. Your professional sphere is particularly highlighted under this aspect, and you may find your innovative ideas meeting with approval from the higher-ups. Channel the earthy energies of Capricorn and Taurus to plant your feet firmly on the ground as you reach for the stars. Today, your natural leadership could be rewarded with opportunities for expansion and learning. Do not shy away from complex tasks; they are but stepping stones on your path to greater wisdom.
More horoscopes for Aries:
Learn more about the Zodiac Sign: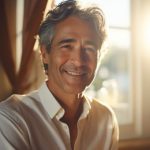 John Anderson is a seasoned astrologer and a key part of the AstroDiem team. Specializing in natal astrology, John blends his education in Philosophy and Psychology to interpret celestial influence on human life. With over two decades of experience, his insights have proven invaluable to individuals worldwide, helping them understand their personalities and life patterns in the light of astrology.