Cancer horoscope today Wednesday, December 6, 2023:
Dear Cancer, with Venus in Scorpio trine Saturn in Pisces, your emotional waters run deep and tranquil today. This aspect lights up your zones of intimacy and shared resources, beckoning you to merge closer with others. Trust and loyalty are themes that may be prominent now, providing a chance to solidify bonds. Saturn's influence suggests a maturity in how you handle your vulnerabilities, making it a good time to have those heart-to-heart conversations. Whether it's with a partner, close friend, or family member, open up and let the trustworthy energies of today cement a relationship for the long haul. Financially, you might also find it rewarding to engage in planning for your future security. It's a time for emotional investments as much as financial ones – both have the potential to yield long-term benefits.
As Neptune changes course and swims forward in the mystical waters of Pisces, Cancer, you are beckoned to expand your horizons. This celestial shift may illuminate pathways to wisdom you've previously overlooked. If your educational or travel plans have been on pause, anticipate a smoother sail ahead. The direct motion can also be a harbinger of spiritual awakening; listen to your intuition—it will be a powerful guide during this phase. Embrace the flux, and let it dissolve any barriers that have prevented you from embracing a deeper understanding of the world. Dreams of distant lands or profound insights could be particularly prophetic now, so keep your inner compass at the ready.
Nurturing Cancer, today the cosmos cradles your sensitive spirit with a harmonious aspect that promises growth in your personal realm. The earthy energies of Capricorn and Taurus urge you to find solace in the stability of routine, yet they beckon you to expand your domestic bliss. Your home may be the foundation from which prosperity will grow. Consider this an opportune moment to make those home improvements or family plans you've been pondering. Your intuition is your most reliable guide; trust in it as you might trust the phases of the moon which governs your sign.
More horoscopes for Cancer:
Learn more about the Zodiac Sign: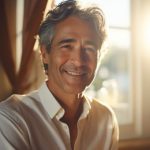 John Anderson is a seasoned astrologer and a key part of the AstroDiem team. Specializing in natal astrology, John blends his education in Philosophy and Psychology to interpret celestial influence on human life. With over two decades of experience, his insights have proven invaluable to individuals worldwide, helping them understand their personalities and life patterns in the light of astrology.