Capricorn horoscope today Tuesday, December 5, 2023:
As Venus enters Scorpio, your eleventh house of friendships and future goals receives a wave of transformative energy, Capricorn. It's a moment to connect deeply with your social circle and perhaps to form bonds that go beyond the superficial. This transit could bring intensity to your interactions with friends and within groups, urging you to consider the role they play in your broader life goals. It may be an ideal time to re-evaluate your hopes and wishes, especially those connected to partnerships. Collaboration could become more intense or meaningful, with the potential for a joint venture to take on greater significance. Remember, while your pragmatic side values tangible results, this period also asks you to pay attention to the emotional dynamics at play.
Capricorn, with Venus in Scorpio forming a trine to Saturn in Pisces, your traditional ruler, you are in a cosmic sweet spot to align your ambitions with your deeper emotional currents. The day's energy supports you in building relationships and networks that have both depth and staying power. In professional settings, strategic alliances formed now can greatly aid in your long-term career goals. Venus encourages you to soften your approach, allowing for a more intuitive connection with colleagues and partners, while Saturn provides the structure and dedication needed for these relationships to thrive and support your aspirations. This is also a day for measured financial decisions, especially those involving joint resources or investments. Personal or emotional investments made today are likely to bear fruit, thanks to your commitment and the genuine intentions behind them.
Neptune's direct motion activates the realm of communication for you, Capricorn, clearing the fog that may have clouded your thoughts and words. If you've encountered misunderstandings or found it difficult to convey your ideas with clarity, you can now expect to find a smoother flow and a more receptive audience. This is a time when your practical nature could benefit from a touch of Neptune's intuition. Listen to the subtle undercurrents in conversations; there's much to learn between the lines. Use this period to bridge the gap between your logical mind and imaginative spirit, which could lead to inspired thinking and effective dialogue.
More horoscopes for Capricorn:
Learn more about the Zodiac Sign: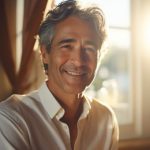 John Anderson is a seasoned astrologer and a key part of the AstroDiem team. Specializing in natal astrology, John blends his education in Philosophy and Psychology to interpret celestial influence on human life. With over two decades of experience, his insights have proven invaluable to individuals worldwide, helping them understand their personalities and life patterns in the light of astrology.