Gemini horoscope today Wednesday, December 6, 2023:
Gemini, as a naturally communicative sign, you may find today's astral alignment between Venus and Saturn encourages a more thoughtful exchange of ideas, especially in matters of the heart. Venus in Scorpio brings an intensity to your interactions, while Saturn in Pisces asks you to take responsibility for your words and feelings. It's a day to listen as much as you speak, finding wisdom in the silence between words. This trine aspect may also inspire you to reflect on your daily routines and habits, particularly those related to your wellbeing. Consider adopting a practice that nurtures both your mental and emotional health. Embrace the depth of your relationships and the maturity of your communication to make the most of this day.
Gemini, as Neptune sails forward in your career sector, you may find that clarity returns to your long-term goals and the image you present to the world. If your path has been shrouded in uncertainty, now is the moment to trust in the universe's plan for you. It's an ideal time to infuse creativity into your professional life and to consider how your work impacts others on a spiritual level. Be wary of over-idealizing potential career moves—Neptune's influence can sometimes blur the line between reality and fantasy. Seek grounded advice and let your quick wit and adaptability guide you through any lingering mists of confusion.
Witty Gemini, as your ruler Mercury forms a trine with generous Jupiter, you'll find that your voice carries both wisdom and weight. Communication is your art, and today it has the power to open doors that were previously just part of the wall. Networking could lead to serendipitous connections, so cast your social net wide. Financial or emotional partnerships could benefit from straightforward talks, where transparency will lead to trust. Let Capricorn's influence remind you to pace yourself; it's a marathon, not a sprint. Use this time to set intentions that align with your higher purpose.
More horoscopes for Gemini:
Learn more about the Zodiac Sign: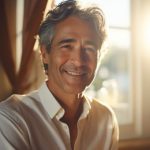 John Anderson is a seasoned astrologer and a key part of the AstroDiem team. Specializing in natal astrology, John blends his education in Philosophy and Psychology to interpret celestial influence on human life. With over two decades of experience, his insights have proven invaluable to individuals worldwide, helping them understand their personalities and life patterns in the light of astrology.