Leo horoscope today Wednesday, December 6, 2023:
Leo, the alignment of Venus in the intense sign of Scorpio with Saturn in dreamy Pisces offers you a chance to bring stability to your relationships and creative endeavors. You're usually the star of the show, but today's celestial dance asks you to share the stage, acknowledging the role of others in your life. It's an ideal time to address the balance between give and take in partnerships. The professional bonds you foster now, particularly with individuals who support your ambitions, can prove especially enduring. Embrace the transformative energy of Scorpio to evolve not just solo, but as part of a duo or team. Allow the wisdom of Saturn to guide you towards commitments that resonate with your core values. In love, patience and depth can lead to a passion that burns steadily, rather than with a fleeting spark.
Neptune's direct turn in Pisces touches the most intimate areas of your chart, Leo, urging you to peer into the depths of your inner sea. Matters of shared resources and emotional exchanges may have felt like navigating a labyrinth, but now, the waters begin to clear. You're encouraged to confront and release any illusions or dependencies in financial or emotional ties. This period is ripe for healing as Neptune's influence helps dissolve barriers, allowing for a more profound connection with others. Trust in the transformative power of vulnerability; it may just lead to a revitalization of both your resources and spirit.
Regal Leo, as Mercury aligns in a favorable angle with Jupiter, your ability to inspire through communication is amplified. The stage is set for you to broadcast your ideas and your enthusiasm could be contagious, enchanting those around you both in personal and professional realms. Embrace the discipline of Capricorn to refine your message, ensuring that your bright ideas are grounded in practicality. It's a day where learning and teaching can go hand in hand, with you at the center, leading the exchange. Reach out to siblings or close friends; they may play a role in this productive and enlightening day.
More horoscopes for Leo:
Learn more about the Zodiac Sign: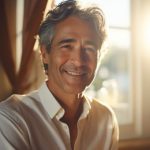 John Anderson is a seasoned astrologer and a key part of the AstroDiem team. Specializing in natal astrology, John blends his education in Philosophy and Psychology to interpret celestial influence on human life. With over two decades of experience, his insights have proven invaluable to individuals worldwide, helping them understand their personalities and life patterns in the light of astrology.