Libra horoscope today Wednesday, December 6, 2023:
Libra, as Venus graces Scorpio and forms a supportive trine to Saturn in Pisces, you're invited to dive into the depths of your closest relationships and artistic endeavors. For you, this is a time to find beauty in transformation and to honor the seriousness of your connections. Your ruling planet, Venus, encourages a fearless honesty in love and friendships, while Saturn's steady hand ensures that these bonds are built on a foundation of mutual respect and understanding. It's an excellent day to express your affections with sincerity, perhaps through a creative medium. The trine also shines on legal matters or contracts, suggesting that any negotiations entered into now will be imbued with integrity and the potential for longevity. Embrace the day's energies to create harmony and balance through profound, lasting changes in your partnerships.
With Neptune's forward motion in your zone of daily routines and health, Libra, expect a dissipation of confusion surrounding your habits and wellbeing. If you've been adrift in a sea of wellness fads or work chaos, clarity is emerging. This celestial movement invites you to refine your routines and to listen more closely to your body's subtle signals. It's time to integrate spiritual practices into your daily life, finding harmony in the ebb and flow of your physical and metaphysical needs. Trust in the transformative power of Neptune to guide you to a more intuitive approach to balance and productivity.
Gracious Libra, the balance you so cherish is warmly supported today as thoughtful Mercury and abundant Jupiter align. Your diplomatic skills are your forte, and they could lead to expansive opportunities in both your personal and professional life. This is a day to create harmony in partnerships, to negotiate with both fairness and a keen eye on the larger vision. Whether it's through mediating a conflict or collaborating on a project, your ability to find the middle ground could yield fruitful outcomes. Remember, beauty isn't always in the grand gestures; sometimes, it's in the details.
More horoscopes for Libra:
Learn more about the Zodiac Sign: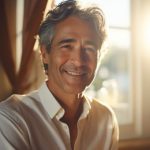 John Anderson is a seasoned astrologer and a key part of the AstroDiem team. Specializing in natal astrology, John blends his education in Philosophy and Psychology to interpret celestial influence on human life. With over two decades of experience, his insights have proven invaluable to individuals worldwide, helping them understand their personalities and life patterns in the light of astrology.