Pisces horoscope today Wednesday, December 6, 2023:
Pisces, as Saturn in your sign forms a trine with Venus in Scorpio, the universe offers a canvas for you to paint your dreams into reality with emotional depth and resilience. This aspect illuminates your intrinsic psychic sensitivity, while Saturn's presence in your sign bestows a rare strength and structure to your emotional world. The transformative power of Venus in a compatible water sign brings a certain magnetism to your personality, deepening relationships and attracting beneficial interactions. It's an ideal time to engage in creative projects, spiritual pursuits, and to share your intuitive insights with others. Embrace the stability and wisdom that Saturn offers, as it harmonizes with your compassionate nature. The emotional and spiritual bonds you strengthen today are poised to bring long-term growth and personal fulfillment.
Neptune, your ruling planet, shifting forward in your sign, Pisces, marks a significant personal awakening. The dreams you've been incubating, the identity you've been shaping, may now begin to crystallize into a clearer vision of yourself. If you've felt lost at sea, this change in direction signifies a return to a sense of personal direction and empowerment. Embrace this time to express your individuality and to reconnect with your core essence. It's also a period ripe for artistic or spiritual pursuits, where your natural Piscean intuition can truly flourish. As Neptune moves direct, let your empathy and imagination shine, but be mindful to anchor them with practical steps to make your dreams a reality.
Empathic Pisces, the harmonious trine between Mercury and Jupiter casts a glow on your social interactions and community involvement. There's a promise of expansion within your networks, and your kind-hearted approach could attract beneficial allies. Your ideals have a stage now, and you'll find it easier to communicate them with clarity and a touch of inspiration. It's a wonderful moment to engage with friends or groups that share your vision. Artistic or spiritual collaborations are particularly favored, and the connections you make now could have long-lasting positive effects on your journey.
More horoscopes for Pisces:
Learn more about the Zodiac Sign: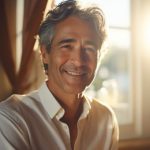 John Anderson is a seasoned astrologer and a key part of the AstroDiem team. Specializing in natal astrology, John blends his education in Philosophy and Psychology to interpret celestial influence on human life. With over two decades of experience, his insights have proven invaluable to individuals worldwide, helping them understand their personalities and life patterns in the light of astrology.