Sagittarius horoscope today Wednesday, December 6, 2023:
Sagittarius, as Venus and Saturn align in a supportive trine, you may find that introspection brings rewards. This planetary aspect encourages you to look inward and to solidify the spiritual and philosophical beliefs that serve as your life's foundation. It's a moment to learn from the past and to allow those lessons to inform your future. Saturn in Pisces offers a grounding influence that can help you manifest your dreams with patience and perseverance, while Venus in Scorpio deepens your connections and conversations, urging you to seek truth and wisdom. In your social circles and among colleagues, you might be seen as a beacon of stability and depth, someone who can be relied upon for insightful perspectives. Take this day to explore your inner world—your outer world will thank you for it.
As Neptune sails forward in the waters of your home and family sector, Sagittarius, it's as if the high tide is starting to recede, revealing clearer shores ahead. Family matters and domestic situations that may have been murky or confusing can now be approached with a new perspective. Use this time to create a sanctuary that reflects your spiritual values, one that can be both a retreat and a place of profound personal growth. Neptune's direct motion also invites you to heal ancestral patterns and to foster deeper connections with loved ones. Allow the planet's mystical energy to wash away past grievances, paving the way for emotional renewal and a deeper sense of peace at home.
Adventurous Sagittarius, your expansive ruler Jupiter is in a delightful dance with Mercury, promising a day where your philosophical and jovial nature shines. Your sense of exploration is piqued; it's an excellent time for learning that broadens your horizon. This transit blesses you with the ability to see the big picture, and perhaps to share that vision with others. If you've been considering publishing, teaching, or broadcasting your ideas, the stars are aligned in your favor. Your natural optimism could be infectious, drawing others to your side and making it an ideal time to collaborate on future-oriented projects.
More horoscopes for Sagittarius:
Learn more about the Zodiac Sign: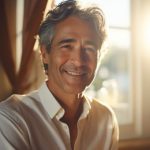 John Anderson is a seasoned astrologer and a key part of the AstroDiem team. Specializing in natal astrology, John blends his education in Philosophy and Psychology to interpret celestial influence on human life. With over two decades of experience, his insights have proven invaluable to individuals worldwide, helping them understand their personalities and life patterns in the light of astrology.