Virgo horoscope today Wednesday, December 6, 2023:
On this day, Virgo, Venus in Scorpio trines Saturn in Pisces, bringing a rare depth and intensity to your daily routines and health practices. You might feel a strong pull to revamp your lifestyle, incorporating more holistic and emotionally enriching habits into your routine. The energy is ripe for starting a regimen that is not just about physical health, but also about emotional resilience. It's an opportune time to implement structures that allow for personal growth and emotional stability. Work matters may also benefit from this influence, as you find pleasure in being meticulous and taking on responsibilities with a renewed sense of dedication. Relationships with colleagues could become more profound, built on mutual respect and shared goals. The trine's harmonious energy can help you bridge the gap between the practical and the mystical, making even the mundane feel magical.
Virgo, with Neptune forging ahead in your sector of partnerships, the fog that may have settled over relationships begins to lift. If connections have been elusive or confounding, clarity is on the horizon. This is a time to recognize and release any ideals that don't serve you in your quest for true companionship. Embrace the potential for empathy and deeper understanding in your one-on-one relationships. The direct motion can foster a stronger, more spiritual bond with significant others, be they in business or your personal life. It's an opportune moment to smooth over misunderstandings and to blend practicality with compassion. As the veil thins, allow Neptune to guide you toward a partnership that resonates with your soul's true purpose.
Precise Virgo, with your ruling planet Mercury engaging in a prosperous trine with Jupiter, your meticulous attention to detail could pay off in material ways. There's potential for financial gain, or you may find your skills in high demand. It's a moment to be both prudent and optimistic, to invest in your growth — be it through education, resources, or health. Your practical nature is your ally; it will tell you how to harness this transit's abundant energies wisely. Be open to abundance in all its forms, recognizing that sometimes wealth comes in knowledge, health, and well-being, not just coins.
More horoscopes for Virgo:
Learn more about the Zodiac Sign: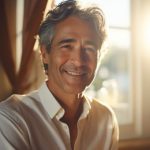 John Anderson is a seasoned astrologer and a key part of the AstroDiem team. Specializing in natal astrology, John blends his education in Philosophy and Psychology to interpret celestial influence on human life. With over two decades of experience, his insights have proven invaluable to individuals worldwide, helping them understand their personalities and life patterns in the light of astrology.