Capricorn love horoscope today Wednesday, December 6, 2023:
With Venus in Scorpio forming a trine to Saturn in Pisces, your disciplined nature in love is softened by a wave of emotional depth today, Capricorn. This cosmic alignment encourages a blend of practicality and passion in your relationships. If you are in a partnership, it's an ideal time to share your deeper feelings while also appreciating the solid foundation you've built together. For single Capricorns, you might find yourself attracted to individuals who not only understand your ambitions but also resonate with your emotional needs. Embrace this opportunity to deepen your connections on both an emotional and practical level.
Capricorn, as Neptune moves direct in Pisces, your typically pragmatic view of love is softened, allowing a more romantic and empathetic perspective to emerge. This transit is inviting you to loosen your grip on practicality and to dream a little when it comes to love. In your relationships, show your softer, more vulnerable side. It's a powerful day for deepening bonds through sharing dreams and aspirations. If you're single, this might be a time when you attract someone who appreciates your sincerity and dedication but also helps you see the magic in love.
With Mercury in your sign forming a trine to Jupiter in Taurus, today highlights your innate ability for pragmatic and meaningful communication in relationships. This aspect brings a sense of stability and growth, making it an excellent day for discussing long-term plans with your partner. If you're single, you may find yourself drawn to someone who shares your ambitions and practical approach to life. Embrace this day to solidify your connections with sincerity and a forward-looking mindset.
More horoscopes for Capricorn:
Learn more about the Zodiac Sign: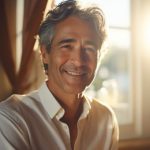 John Anderson is a seasoned astrologer and a key part of the AstroDiem team. Specializing in natal astrology, John blends his education in Philosophy and Psychology to interpret celestial influence on human life. With over two decades of experience, his insights have proven invaluable to individuals worldwide, helping them understand their personalities and life patterns in the light of astrology.