Gemini love horoscope today Wednesday, December 6, 2023:
Today's Venus-Saturn trine offers a unique opportunity for you, Gemini, to find a balance between your need for variety and your desire for meaningful connections. In relationships, communication is key, and you might find yourself having more structured yet deeply insightful conversations with your partner. For single Geminis, this planetary alignment might draw you towards people who are both intellectually stimulating and emotionally mature. It's a good day to be open to learning from your romantic experiences, as they hold valuable lessons about love and life.
Gemini, as Neptune goes direct in Pisces, your communication skills become even more powerful in the realm of love. This planetary movement enhances your empathy and helps you understand the unspoken feelings of those around you. It's a great day to express your feelings in creative ways, perhaps through a heartfelt message or a thoughtful gesture. If you're single, you might find that your usual witty banter opens doors to deeper, more meaningful conversations. Let your curiosity lead the way, but also be ready to listen; sometimes, what isn't said is just as important as what is.
This planetary alignment invites you to blend your intellectual curiosity with the practicalities of love. Communication in relationships becomes smoother, allowing you to express your ideas and listen to your partner's perspectives effectively. For single Geminis, this is a perfect day to connect with someone who shares your intellectual interests and offers a sense of grounding. Your love life can benefit from a balance of playful exchanges and serious discussions today.
More horoscopes for Gemini:
Learn more about the Zodiac Sign: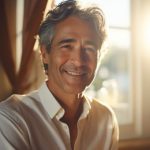 John Anderson is a seasoned astrologer and a key part of the AstroDiem team. Specializing in natal astrology, John blends his education in Philosophy and Psychology to interpret celestial influence on human life. With over two decades of experience, his insights have proven invaluable to individuals worldwide, helping them understand their personalities and life patterns in the light of astrology.