Leo love horoscope today Wednesday, December 6, 2023:
Today, Venus in Scorpio trine Saturn in Pisces encourages you, Leo, to balance your natural flair for romance with a more serious, committed approach to love. In relationships, you may find yourself taking a more responsible role, showing your partner your dependable side. It's a day to prove that your love is not only passionate but also steadfast. For single Leos, your charisma is high, but you may be drawn to those who show a deeper, more introspective side. Look for connections that offer both excitement and stability.
Leo, as Neptune goes direct in Pisces, your love life gets a touch of fantasy and idealism. This is a time to dream big in love, to imagine the kind of relationship you truly desire. Your natural flair for romance is heightened, making this an excellent day for grand gestures or to simply bask in the joy of love. If you're single, be open to the unexpected. The universe might surprise you with an encounter that feels fated. Remember, love today may require a leap of faith, but you're the perfect sign to take that jump.
This celestial alignment shines a light on the importance of stable yet joyful communication in your love life. Mercury in Capricorn's practical energy, combined with Jupiter in Taurus' expansive nature, encourages you to express your romantic desires confidently and listen to your partner's needs. If single, you might be drawn to someone who shares your passion for life but also offers a sense of stability. Embrace this day as an opportunity to balance your fiery nature with grounded conversations in love.
More horoscopes for Leo:
Learn more about the Zodiac Sign: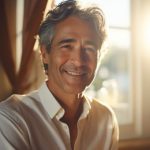 John Anderson is a seasoned astrologer and a key part of the AstroDiem team. Specializing in natal astrology, John blends his education in Philosophy and Psychology to interpret celestial influence on human life. With over two decades of experience, his insights have proven invaluable to individuals worldwide, helping them understand their personalities and life patterns in the light of astrology.