Monthly Aquarius Horoscope for December
Step into the spotlight, because this is your time to shine and there's a remarkable reason behind it. Last month, Jupiter made its grand entrance into the zenith of your sign for the first time in 12 years, bringing along thrilling opportunities. Before you can fully bask in the rewards of this auspicious alignment, there will be some challenges to overcome in your professional life. It all starts with a favorable full moon on the 7th, closely intertwined with Jupiter. Brace yourself, as a job offer or promotion may be on the horizon, but this new opportunity won't come without its fair share of drama. Before the pieces fall into place, an important conversation with your partner may be necessary.
On the 12th, Mercury enters your career sector and will stay there until the 4th of next month. This will assist you in negotiating not only at work but also in your personal life. However, remember that we have two ears for a reason; your ability to listen can greatly impact the decisions you make during this period. Towards the end of the month, especially, it would be wise to keep this advice in mind when the opportunity arises to tie up loose ends with someone special in your life.
Keep an eye on the 22nd, as a vibrant full moon in the sign of Cancer could greatly influence your love life, bringing deep conversations and sentimental tenderness. Perhaps it's time to embark on a new path in matters of the heart?
If you have children or are considering starting a family, this period offers an opportunity to evaluate old habits and try something new that can benefit both you and your children. It could be on a spiritual or ideological level, where you venture into new patterns of thought and action. Or it could be something as practical as incorporating more meatless days or engaging in a new family activity. On the final day of the month, Mars moves into your income sector, and both you and your wallet will reap the rewards.
More horoscopes for Aquarius:
Learn more about the Zodiac Sign: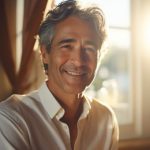 John Anderson is a seasoned astrologer and a key part of the AstroDiem team. Specializing in natal astrology, John blends his education in Philosophy and Psychology to interpret celestial influence on human life. With over two decades of experience, his insights have proven invaluable to individuals worldwide, helping them understand their personalities and life patterns in the light of astrology.