Monthly Aries Horoscope for December
Your month is set to be nothing short of magical. This month has everything you need - delicious food, loving people, and money. Venus, your ruling planet, moves back into your partnership sector on the 2nd and stays there until the 7th of next month. She recently paid a visit but was retrograde last time, giving you some love-related bumps. Now, the planet of love is back in full bloom, ready to bestow all her blessings upon your love life! So get ready for a hot month filled with new mysterious acquaintances or an intense love affair with your soulmate. Mercury also returns to its normal course in this context on the 6th. Important conversations await.
Venus's favorable influence also affects your finances this month. While your previous month was good in terms of money, you can now look forward to reaching entirely new financial heights with the New Moon on the 7th. At the same time, Jupiter is adding the fuel it needs to really rev up, and it's going to be bigger than you expect!
On the 22nd, the Full Moon lands in your communication sector. This is a vital turning point, and you should consider your phrases and weigh your words. They can mean a lot to those around you and perhaps even to the world. Mars visits your innermost self on the 29th. He arrives at your 12th house, which represents your privacy. For you, this means a major innovative and deeply personal project is on the horizon. However, it will be kept secret for now, as it's not until the end of the year that you begin to brew your new project. Whatever it is, a fantastic year is in the making.
More horoscopes for Aries:
Learn more about the Zodiac Sign: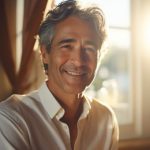 John Anderson is a seasoned astrologer and a key part of the AstroDiem team. Specializing in natal astrology, John blends his education in Philosophy and Psychology to interpret celestial influence on human life. With over two decades of experience, his insights have proven invaluable to individuals worldwide, helping them understand their personalities and life patterns in the light of astrology.