Monthly Cancer Horoscope for December
This month holds not just jingle bells for you, dear friend! There is also happiness, love, and self-care in store for you and your loved ones. Last month, Jupiter was by your side, and his fortune carries over into a radiant month ahead. The new moon aligns perfectly with this outlook, and from the 7th onwards, you can expect magic in the air. If you're single, rest assured that you will encounter a new and mysterious acquaintance who will elevate your senses to new heights. Especially now, as Jupiter and the new moon converge in your 5th house. A good tip: rest in yourself and trust that the universe is on your side.
If you feel more creative than usual this month, it's no coincidence. You will feel exceptionally inspired, and out of this inspiration, you will be able to create exciting and amazing things. This could be through writing, photography, painting, or something entirely different. Whatever it is, it will be a success. Friends and family will also encourage your creative projects, and there may even be a demand for your creative talent. Pay particular attention to the time after the 6th when Mercury returns to its normal course after being in retrograde. It will accelerate your projects and give you a whole new sense of flow.
A full moon in the sign of Cancer in your 12th house, representing vulnerability, occurs on the 22nd. This can help you find the freedom to release a lot of emotions that may have built up over a longer period, whether in relation to family or your job. On the other hand, Mars moves in on the 29th, promising new horizons. This might lead you to ask questions like: Where should I go? What are my dreams? Trust that the signal-strong planet will fill you with cosmic energy and give you the courage to find these answers deep within yourself.
More horoscopes for Cancer:
Learn more about the Zodiac Sign: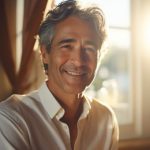 John Anderson is a seasoned astrologer and a key part of the AstroDiem team. Specializing in natal astrology, John blends his education in Philosophy and Psychology to interpret celestial influence on human life. With over two decades of experience, his insights have proven invaluable to individuals worldwide, helping them understand their personalities and life patterns in the light of astrology.