Monthly Capricorn Horoscope for December
This month holds something truly extraordinary in store for you, dear friend. Especially when it comes to your professional life, where something new and thrilling is about to begin. After a couple of hectic months filled with opportunities and fast-paced moments in both your work and personal life, it's time to take a closer look at how you can truly generate success. Fortunately, you'll receive some help starting from the 2nd when the planet of love, Venus, enters the top of your sign. She brings along harmony and balance, which you will benefit from in all areas of your life, but particularly in your professional relationships. Have you dreamt of taking on more responsibility or changing direction? The time has come to take that first step! Keep a keen eye on the 6th as a special opportunity presents itself.
Despite the increased focus on your career this month, there's also time for personal matters, including your relationships with friends and acquaintances, which play a significant role in your life during this period. A beautiful new moon will pave the way for a magnificent gathering or another meaningful connection on the 7th, giving you the chance to get closer to someone you cherish. Undoubtedly, this will strengthen your familial bonds while also providing an opportunity to give back to those you hold dear. A spontaneous trip with your family might also be on the horizon during this period, provided you can free yourself from work projects.
Towards the end of the month, you'll shift your focus from the collective to the individual, turning your gaze inward for a while. The full moon on the 22nd will particularly highlight an increased focus on your health, which could manifest in the form of a new active hobby or experimentation with vegan cooking and other healthy alternatives to your current lifestyle. Whatever it may be, your focus on health and well-being will extend far into the future.
More horoscopes for Capricorn:
Learn more about the Zodiac Sign: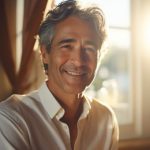 John Anderson is a seasoned astrologer and a key part of the AstroDiem team. Specializing in natal astrology, John blends his education in Philosophy and Psychology to interpret celestial influence on human life. With over two decades of experience, his insights have proven invaluable to individuals worldwide, helping them understand their personalities and life patterns in the light of astrology.