Monthly Gemini Horoscope for December
If you've felt bewildered in matters of love last month, get ready for some much-needed clarity. On the 2nd, Venus moves into your sector of true love, bringing a wave of renewed energy into your life. Additionally, on the 6th, Mercury returns to its normal orbit, granting you immense clarity and revitalizing your spirits. You'll find yourself making decisions with ease, even those that have left you uncertain earlier in the year. This newfound clarity also propels you into exciting adventures in your love life. Moreover, this cosmic alignment may enable you to release any pent-up negative energy that has been weighing you down recently. Perhaps a sick family member or someone close to you who has been struggling will finally find respite from their afflictions.
On the professional front, this month holds tremendous promise. If you're currently unemployed, new opportunities are on the horizon. And not just one, but many! If you're already employed, you can look forward to engaging and exhilarating tasks awaiting your judgment and attention to detail. If you're considering a career change, it's advisable to wait until after the New Moon on the 7th. That's when the greatest number of opportunities will present themselves. Furthermore, Jupiter will support your decision, ensuring you feel confident when you finally make your choice.
Mars also contributes to your decision-making this month, specifically on the 29th. By positioning itself at the top of your sign, Mars makes the decision-making process even smoother, especially if you work in communication or hold significant responsibilities within a company or organization. An emotional upheaval is on the horizon on the 22nd, when the Full Moon reveals what you need to let go of. It's a necessary step, and you'll quickly feel a massive burden lifted from your shoulders as you release the dead weight in your life. Get ready to start the rest of the year with a clean slate and dive into the endless possibilities that lie ahead!
More horoscopes for Gemini:
Learn more about the Zodiac Sign: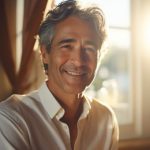 John Anderson is a seasoned astrologer and a key part of the AstroDiem team. Specializing in natal astrology, John blends his education in Philosophy and Psychology to interpret celestial influence on human life. With over two decades of experience, his insights have proven invaluable to individuals worldwide, helping them understand their personalities and life patterns in the light of astrology.