Monthly Leo Horoscope for December
This month, get ready to experience the peak of joy and tranquility in your family life, bringing you a profound sense of calmness that you haven't felt in a long time. Prepare yourself for a whole new level of balance and harmony within your family. Embrace this opportunity for quality time by riding the wave and indulging in family outings, creating fun activities with the little ones, or embarking on delightful projects that revolve around your loved ones.
On the 7th, a new moon aligns with your 4th house, representing home and family. This not only sets the stage for a potential perfect home finding but also brings the exciting possibility of a new addition to your family. Be prepared for the joyful news that someone close to you or within your family circle may be expecting.
However, your love life may require some attention this month. Perhaps you've been ignoring certain issues, avoiding necessary discussions, or surrendering on matters where you should have stood your ground. These unresolved matters could pose a problem later on. On the 7th, Mars and Neptune clash in your partnership sector, allowing you to stay in denial of the pressing issues at hand. But why are you avoiding confrontation? Take a moment to reflect on why it hurts and instead, try to turn negatives into positives. How can you make the best out of this situation?
On the 22nd, someone close to you might call for your expertise or emotional support during an unexpected crisis. By stepping in and assisting them through this sudden turmoil, both of you will emerge stronger on the other side. Additionally, there's exciting news that a parallel project you've been working on for quite some time will finally receive attention and recognition. This could very well lead to financial gains and rewards.
Get ready for a month filled with family joy, opportunities for personal growth, and the chance to overcome relationship challenges. Embrace the blessings that come your way and make the most out of every moment!
More horoscopes for Leo:
Learn more about the Zodiac Sign: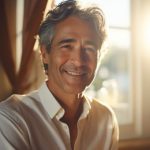 John Anderson is a seasoned astrologer and a key part of the AstroDiem team. Specializing in natal astrology, John blends his education in Philosophy and Psychology to interpret celestial influence on human life. With over two decades of experience, his insights have proven invaluable to individuals worldwide, helping them understand their personalities and life patterns in the light of astrology.