Monthly Libra Horoscope for December
Get ready for an exhilarating ride this month because it's time for an upswing! Brace yourself for a torrent of electrifying vibes and happiness, all courtesy of the enchanting planet of love, Venus. On the 2nd, Venus takes up residence in your sign, rekindling its magic after a period of romantic stagnation. In fact, you'll be basking in Venus' bewitching energies until the 7th of next month. So sit back, enjoy the journey, and let your world be captivated by a deeper sense of grounding, self-assurance, and love.
If you're single, there's no doubt that you'll leave a lasting impression on one or more hopeful suitors this month—all you need to do is step outside your door. On the other hand, if you're in a relationship, significant changes may be on the horizon, perhaps even a proposal or discussions about starting a family. Pay close attention to the period between the 16th and 24th when Venus forms connections with Saturn and then Neptune in your sector of true love. It's highly likely that all you'll desire at this time is your one and only. It doesn't get any better than that!
On the professional front, you'll also experience progress in terms of your finances this month. You can thank a favorable new moon in your income sector around the 7th for this. Combined with Jupiter's fortunate energies, it will propel you in a positive direction regarding your financial situation. Despite fancy dinners and other expenses, you'll find money flowing more easily to you this month. Additionally, Mercury will return to its normal path after a period of retrograde motion, allowing you to gain mental clarity about your life and dreams.
If you've been embroiled in a dispute over rights or money, peace will finally prevail around the 22nd when the full moon enters your 9th house of legal matters. Overall, you'll enter the new year with renewed vigor and plenty of opportunities.
More horoscopes for Libra:
Learn more about the Zodiac Sign: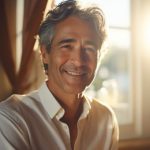 John Anderson is a seasoned astrologer and a key part of the AstroDiem team. Specializing in natal astrology, John blends his education in Philosophy and Psychology to interpret celestial influence on human life. With over two decades of experience, his insights have proven invaluable to individuals worldwide, helping them understand their personalities and life patterns in the light of astrology.