Monthly Pisces Horoscope for December
Dear friend, get ready for an extraordinary month filled with thrilling adventures! The cosmic energies have aligned to bring you an intriguing and captivating journey ahead. Brace yourself for a month like no other, as a powerful new moon graces your 9th house on the 7th, setting the stage for expansion and presenting a pivotal opportunity that can lead you in two fascinating directions.
Firstly, this influx of new energy may inspire you to embark on a quest for knowledge, urging you to explore fresh educational avenues and chase exciting opportunities for personal growth. The universe beckons you to broaden your horizons and embrace the wonders of learning.
Alternatively, should the cosmic forces guide you along a different path, be prepared for a profound awakening to the spiritual realm. Open your eyes to the mystical and ethereal, as this transformative energy may reveal hidden dimensions and spiritual truths. Should you stumble upon tarot cards and crystals on the 24th, it serves as a cosmic confirmation that the new moon has been at play, propelling you forward on your spiritual journey.
More horoscopes for Pisces:
Learn more about the Zodiac Sign: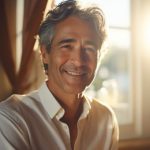 John Anderson is a seasoned astrologer and a key part of the AstroDiem team. Specializing in natal astrology, John blends his education in Philosophy and Psychology to interpret celestial influence on human life. With over two decades of experience, his insights have proven invaluable to individuals worldwide, helping them understand their personalities and life patterns in the light of astrology.