Monthly Sagittarius Horoscope for December
This month, prepare to embark on an exhilarating journey of self-discovery, delving deeper into a side of yourself that may have remained dormant recently but only revealed itself last month. With Jupiter in your 12th house of spirituality last month, you are now exceptionally attuned to your intuition, expressing a refined vulnerability towards the world around you. While others may perceive you as oversensitive, you are actually reconnecting with an essential part of yourself. This newfound connection may manifest in your engagement with a humanitarian organization or in your deepened connection with nature, which you will actively seek out this month.
Fortunately, the universe is fully supportive of your voyage into your spiritual depths. This support becomes especially apparent around the new moon on the 7th, when you feel a greater sense of camaraderie with those around you and hear your inner voice speak more clearly. Although it may feel unfamiliar at first, this is entirely natural. As you sharpen your senses, a fresh atmosphere will permeate your social relationships. Consequently, you will feel more present with your friends, fostering a greater sense of security in your interactions with others. As a result, people will increasingly confide in you this month—and for good reason: you possess the answers they seek!
Exciting news awaits you on the romantic front as well. Your presence and self-assuredness naturally draw people towards you. If you're not currently in a relationship, you can enjoy the benefits of this magnetic position. However, if you are already in a relationship, prepare for long, profound conversations with your beloved that will bring you closer together. With the full moon on the 22nd, a special moment will unfold within your relationship, where emotions will flow freely. This will be followed by Mars entering your sector of home and family on the 29th, where it will manifest these transformations. Perhaps you and your beloved will decide to move in together or emba
More horoscopes for Sagittarius:
Learn more about the Zodiac Sign: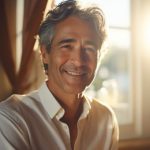 John Anderson is a seasoned astrologer and a key part of the AstroDiem team. Specializing in natal astrology, John blends his education in Philosophy and Psychology to interpret celestial influence on human life. With over two decades of experience, his insights have proven invaluable to individuals worldwide, helping them understand their personalities and life patterns in the light of astrology.