Monthly Virgo Horoscope for December
At the start of this month, you're riding the wave of communicative success that last month brought. You're experiencing progress in both your personal relationships and at work, where your input and opinions hold great value in decision-making processes that have a significant impact on your private and professional connections. It almost feels like you can say anything and get away with it. This progress is largely thanks to Jupiter, which has been residing in your sector of communication since last month. Seize this golden opportunity to exert influence, and you will go far!
On the 7th, there are even more thrilling developments on the communication front as a favorable New Moon enters the same area of your sign. With it comes a fortunate piece of news. Perhaps you'll have the opportunity to climb the career ladder or be offered an influential position in an association, club, or other social context? With Mercury ending its retrograde period on the 6th, this event can only have positive outcomes for you.
Keep a close eye on the 22nd, when a beautiful Full Moon in the sign of Cancer can help you achieve your professional dreams. This could be related to a new job, but it could also involve a period of increased travel in your work life or the culmination of a long and successful career. Whatever it is, you can look forward to it. The month concludes with some ups and downs in your relationship, thanks to the warrior planet Mars in your partnership sector. However, this doesn't necessarily mean a dull ending to an otherwise great month. If you're willing to listen and compromise, you and your partner can end up closer than ever before.
More horoscopes for Virgo:
Learn more about the Zodiac Sign: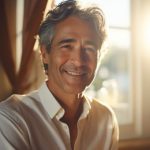 John Anderson is a seasoned astrologer and a key part of the AstroDiem team. Specializing in natal astrology, John blends his education in Philosophy and Psychology to interpret celestial influence on human life. With over two decades of experience, his insights have proven invaluable to individuals worldwide, helping them understand their personalities and life patterns in the light of astrology.