2023 is set to be a smooth sailing year for you, thanks to the positioning of your planets. You're poised to make remarkable progress in life. Channel all your energy towards achieving your goals by year-end, especially if they involve artistic or creative elements.
Stay grounded and separate reality from illusion. Exercise patience in both your personal and professional life, and strive to maintain harmony even when it feels most challenging. Don't shy away from making compromises occasionally. People around you appreciate you, and there's no major drama on the horizon. Your hopes and expectations are in for a good year.
Career
In 2023, you might face some professional challenges. These could be related to starting your own projects or dealing with less cooperative colleagues than usual. Keep your workspace free of clutter and ensure your work is done properly and on time.
Throughout the year, be cautious around your superiors and exhibit professionalism – even when others don't. Mid-year, your career might take a hit, but this setback will only make you stronger on the other side. As 2023 draws to a close, expect a significant transformation in your professional life.
Relationships
2023 will bring you and your loved ones closer together. You'll be brutally honest with your partner and able to openly discuss your feelings. Be careful not to say things you can't take back. If it happens, you must accept the outcome – both negative and positive.
The communication between you two will be better than ever, and the planets will bring romance and passion aplenty. 2023 also promises mutual trust and happiness in your relationship. Be mindful of your behavior and don't give your partner any reason to suspect foul play. Most importantly, you'll grow closer to each other this year.
Finance
Your finances look good in 2023 – but watch out for a period of high frustration around summer. Hard work and sensible prioritization are the keys to a stable and prosperous financial year. This might be a challenge for you, as the planetary alignment encourages overspending and purchasing unnecessary items. Always keep this in mind when you're tempted to splurge – otherwise, it could cause you significant problems.
2023 is rich with sound financial advice from family and friends. You won't be left alone if financial instability arises.
Health
2023 brings good news about your health. The planetary alignment will keep serious illnesses at bay, although minor ailments can't be ruled out. Your energy is the most crucial this year, as you'll have plenty of it.
Mentally, your health looks good, but around November or December, you might feel very sad for an unknown reason. Ensure you eat well and stay in good shape – especially at the start of 2023. Know your body and understand what you can handle mentally.
More horoscopes for Aquarius:
Learn more about the Zodiac Sign: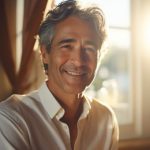 John Anderson is a seasoned astrologer and a key part of the AstroDiem team. Specializing in natal astrology, John blends his education in Philosophy and Psychology to interpret celestial influence on human life. With over two decades of experience, his insights have proven invaluable to individuals worldwide, helping them understand their personalities and life patterns in the light of astrology.