Throughout 2023, your creativity and other talents will shine, earning you recognition. This will be the year when you manage to develop your skills to such an extent that it brings you greater satisfaction in life. You will have ample time and freedom to showcase these talents to the world.
However, this could potentially impact your personal responsibilities negatively. Be careful not to focus too much on your own needs, even if it feels right. Listen to the people around you and stay focused on your goals. They will have plenty of useful advice for you this year.
Overall, all aspects of your life will experience a push in the right direction. Don't just stand by and watch as everything unfolds around you. Dive in and make every day count.
Career
In 2023, your hard work and professional ambitions will have positive outcomes. The year also promises career progression, which might seem hectic at times and require a lot of commitment and sincerity from you.
The first half of the year will be about stabilizing your position at work and then consolidating your role. You might have been on shaky ground recently, but all that will disappear now. New opportunities will arise, offering better financial potential. Despite new connections and acquaintances, don't switch tracks without thoroughly considering your decision.
If you run a business, the latter half of the year will be interesting and particularly rewarding. Be cautious and sharp when dealing with teamwork.
Relationships
2023 promises a complication-free and quiet love life, where you and your partner will have plenty of time for each other. All anxiety and worry seem to vanish into thin air. With a better understanding of each other's needs and deeper dedication, 2023 already looks promising – you'll find it easier to express your feelings and be more receptive to others.
If you're single, the year is perfect for settling down and establishing a serious lifelong relationship. You can look forward to a year with more excitement and affection than the last.
Finance
The planets bless you with significant financial potential for 2023. You'll have the opportunity to improve and stabilize your finances throughout the year. Avoid overspending and find a way to save money.
Initially, you might need a helping hand from a good friend. Use the year to find solutions to both minor and major financial issues that have been haunting you in recent years – you'll find it easy to tackle them in 2023.
Health
Good mood and health will be your companions throughout 2023. You will have plenty of energy and optimism all year round. If you stick to your diet plans and exercise when necessary, you'll avoid health problems. Your health might suffer due to the intake of too much fatty food and particularly spicy food this year. Try to avoid chili in your meals as much as possible.
During the summer, you're particularly at risk of losing control and taking a few steps in the wrong direction. Rise to the challenge and emerge with sparkling good health, stronger than ever. Both physically and mentally, you seem to come out stronger than last year, primarily through sports or other forms of fitness training.
More horoscopes for Cancer:
Learn more about the Zodiac Sign: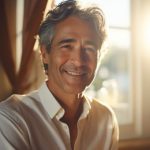 John Anderson is a seasoned astrologer and a key part of the AstroDiem team. Specializing in natal astrology, John blends his education in Philosophy and Psychology to interpret celestial influence on human life. With over two decades of experience, his insights have proven invaluable to individuals worldwide, helping them understand their personalities and life patterns in the light of astrology.