The year 2023 promises significant changes in your personal life and financial situation. So far, you're set to enjoy great success in all your endeavors. However, be cautious not to rest on your laurels and be aware of powerful temptations that could lead you astray. Keep an eye on the good things in your life and don't let them slip away.
This year will be creatively fulfilling, and you'll surely remember it with joy and pride. The planets are supporting your intellect, ensuring that you'll acquire a wealth of relevant knowledge. Overall, the year will be calm and peaceful. Don't hesitate to step up when it comes to helping others.
Career
Your professional life will see great potential in 2023. You seem to mesh well with your colleagues and superiors at your workplace. Teamwork will be the key to professional success. It's the perfect time to reflect on your career and ambitions.
Your projects are moving forward with great stability and ending up where they should. There's a good chance you'll feel the urge to make a significant change in your career. Listen to your instincts and take the leap if it feels right. Make sure to prioritize properly in relation to your work.
Relationships
Love looks promising this year, but there will be one period where you feel hopeless and lost. You'll be inclined to make a critical choice, but you'll find it incredibly easy to choose incorrectly. Keep a close eye on your emotions.
The first half of 2023 will be filled with passion and romance. This is the period to show your loyalty to your partner and prove that they can trust you. The second half of the year will be easy and virtually problem-free. When the difficult period will occur is unclear.
Be careful not to bend over backward if others have opinions about your relationship. It's better to set boundaries early and avoid the complications that would arise from not doing so.
Finance
In 2023, your finances are in good balance and control, thanks to your personal development from before. You'll find it easy to stick to your budget, but also easy to be tempted into unnecessary purchases of expensive items. Don't give in to the temptation.
Keep your priorities clear and free from the fascination of others' luxurious lifestyles. The year promises luck in investment, but don't dive into anything you're not familiar with beforehand. Save money – the coming years may not be as easy.
Health
In 2023, you'll have a good year in terms of your mental and physical health. The year will progress much better than the last, and you'll have plenty of time to enjoy your life and find the balance between daily hustle and home comfort.
Despite an overall good year, you'll encounter a significant problem in the second half of the year. Your health will be seriously affected. It could be ailments related to your digestion or nervous system. To avoid this issue in 2023, pay attention to your eating habits and keep your body in good shape.
In the second half of 2023, it would be a good idea to sacrifice some of your comfort to make room for the effort needed to avoid illness.
More horoscopes for Sagittarius:
Learn more about the Zodiac Sign: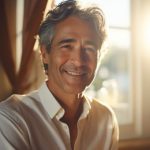 John Anderson is a seasoned astrologer and a key part of the AstroDiem team. Specializing in natal astrology, John blends his education in Philosophy and Psychology to interpret celestial influence on human life. With over two decades of experience, his insights have proven invaluable to individuals worldwide, helping them understand their personalities and life patterns in the light of astrology.