2023 brings with it new sources of strength and energy. You are determined to make your ideas and thoughts a reality, no matter the cost. The constellation of the planets this year will assist you with new opportunities for personal growth and self-development. You'll be able to tackle challenges completely new and positively.
There are several indications that your 2023 will be artistically fulfilling in many respects. You will meet new people who will become a solid part of your future. However, you might be inclined to make hasty decisions instead of thinking your choices through. Be mindful of this at the start of the year. During this period, you should focus fully on your daily life, your job, and your family. Put aside all recreation and navigate through this slightly challenging time unscathed.
Career
The constellation of the planets in 2023 will support your career path. You'll be able to fulfill your ambitions and achieve what you have planned. Your efforts at work will be recognized by your superiors, which could lead to a promotion or successful salary negotiations.
Those willing to put in extra effort will have the opportunity to reach even further. If instability arises at work, keep your cool and maintain a low profile. This year, you should not take chances at work. Older colleagues will be extremely helpful and beneficial for your career. Make sure to heed their advice when you find yourself on shaky ground.
Relationships
In 2023, new opportunities will arise in your relationship. If you're single, there will be plenty of activity in your love life and a high chance of finding the right one. For those already in a relationship, a family expansion is highly likely.
Especially the second half of 2023 will be filled with romance, and you can expect plenty of sensual pleasure as the year progresses. Be careful not to cross any boundaries and do something you might regret, especially in the first few months when temptation will be highest. This year is perfect for reaching agreements about things in your relationship that have been on your mind for a long time.
Finance
2023 will be a year filled with luck and fortune. However, there will also be a number of tough decisions to make. Trust your gut and follow your instincts. You can push a little harder for higher earnings.
You will be successful in launching new projects and ideas. Especially towards the end of the year, your projects will yield returns, but you might also find it hard to hold onto your money. It's important for you to end the year with a stable economy – so keep an overview and don't let yourself be lured into dubious financial affairs.
Health
In 2023, you will have an unprecedented amount of energy, and the planets will provide good support for your physical and mental health. You might feel like the energy comes in waves, primarily due to your need for reward. Your efforts will yield a very nice return, and this could very well be the year when people around you appreciate your friendship the most.
When you have time away from work, you should take it easy – and this applies throughout the year. Keep an eye on your mental health, which might look fragile around the middle of the year. Take it easy and let go of all negativity in January. This month should be used for spiritual renewal.
More horoscopes for Taurus:
Learn more about the Zodiac Sign: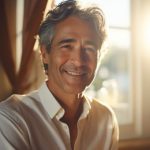 John Anderson is a seasoned astrologer and a key part of the AstroDiem team. Specializing in natal astrology, John blends his education in Philosophy and Psychology to interpret celestial influence on human life. With over two decades of experience, his insights have proven invaluable to individuals worldwide, helping them understand their personalities and life patterns in the light of astrology.