Date of birth: May 20 – June 20
Element: Air
Quality: Mutable
Ruling Planet: Mercury
Day: Wednesday
Color: Light Green, Yellow
Lucky Numbers: 5, 7, 14, 23
Personality Traits of Gemini
| | |
| --- | --- |
| Strengths: | Social, outgoing, humorous, optimistic, eloquent |
| Weaknesses: | Attention-seeking, unsympathetic, temperamental |
| Likes: | Social gatherings, music, fun, travel, new challenges |
| Dislikes: | Boredom, others getting attention, being alone |
When is Gemini Born?
Geminis are born between May 20 and June 20. The vibrant Gemini fits perfectly into the early summer; there's always something happening, and there's almost always an excuse for change and new challenges to some extent. If a Gemini is satisfied in both work and love life, existence is often spiced up with experiences and travel – because life should never be boring.
Gemini Personality
A Gemini is depicted as a twin because individuals born under this sign find it hard to be alone. Geminis are very social and outgoing people, and they shine in the spotlight, where they prefer to be. However, it's hard for a Gemini to be in their own company for too long.
Geminis are known for frequently changing partners, workplaces, and friends. If a Gemini doesn't find the relationship or job favorable, it quickly gets replaced with something more attractive.
Gemini Career and Education
People born under the Gemini sign are very communicative and eloquent. They can really advocate for their cause, and they excel in communication or negotiation contexts. Some of the job positions Geminis typically pursue are lawyer, investor, writer, or politician.
A Gemini is not the type to stay unnecessarily in a job if it doesn't feel satisfying. Often, their resume is well-filled, and although this certainly provides experience, it's not always an advantage to have many short-term employments.
Who is Gemini Compatible With?
Geminis enjoy all forms of communication, and flirting is no exception. A Gemini can charm most zodiac signs with their charm and eloquent abilities, but long-term relationships have the best prospects with a Libra or an Aquarius.
Gemini and Libra: Libra shares the positive energy that Gemini also radiates. Both are outgoing and prefer a relationship full of fun, social events, and good experiences.
Gemini and Aquarius: Aquarius is a true adventurer, and that satisfies Gemini's constant desire for change. A relationship between an Aquarius and a Gemini will typically be filled with experiences and travel.
Although Geminis astrologically match best with Libra and Aquarius, a Gemini can certainly engage in a long-term and harmonious relationship with individuals born under other zodiac signs. The most important thing is that the relationship doesn't become monotonous and boring.
Famous People Born Under the Sign of Gemini
People born under the sign of Gemini will typically recognize a number of common traits in their personalities. Below we have gathered some of the famous people who were born under the Gemini sign. Can you spot the similarities?
Michael Laudrup – June 15, 1964
Angelina Jolie – June 4, 1975
Mary-Kate and Ashley Olsen – June 13, 1986
Natalie Portman – 9. juni 1981
Johnny Depp – 9. juni 1963
Mark Wahlberg – 5. juni 1971
Nicole Kidman – 20. juni 1967
Horoscopes for Gemini: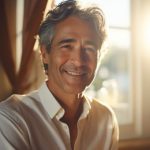 John Anderson is a seasoned astrologer and a key part of the AstroDiem team. Specializing in natal astrology, John blends his education in Philosophy and Psychology to interpret celestial influence on human life. With over two decades of experience, his insights have proven invaluable to individuals worldwide, helping them understand their personalities and life patterns in the light of astrology.