Sagittarius love horoscope today Wednesday, December 6, 2023:
As Venus in Scorpio trines Saturn in Pisces, your adventurous spirit, Sagittarius, may find a surprising comfort in deeper, more meaningful romantic experiences. In relationships, you're encouraged to explore emotional depths you might usually shy away from, finding joy in the intimacy and trust it brings. For single Sagittarians, this planetary alignment suggests that while your love for freedom is undiminished, you may be drawn to those who can offer a sense of emotional depth and wisdom. It's a day to expand your horizons in love, not just in breadth but in depth as well.
Sagittarius, as Neptune turns direct in Pisces, your adventurous spirit in love is encouraged to explore new emotional territories. This transit brings a dreamy, romantic quality to your love life, urging you to seek connections that are not only physically stimulating but also emotionally enriching. If you're in a relationship, consider planning something out of the ordinary with your partner – an adventure that also allows for emotional bonding. For single Sagittarians, your openness and enthusiasm are particularly attractive now. Embrace any new connections with an open heart, as they might offer you more than just a fleeting moment of joy.
With Jupiter, your ruling planet, in harmonious aspect to Mercury, today brings a sense of optimism and expansion to your love life. This is a day to embrace open and honest communication, discussing your visions for the future and exploring new possibilities in love. If you're in a relationship, it's a perfect time for planning adventures together. For single Sagittarians, you're likely to attract someone who shares your love for exploration and philosophical discussions. Enjoy the freedom and growth that today's aspect offers.
More horoscopes for Sagittarius:
Learn more about the Zodiac Sign: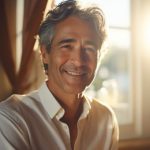 John Anderson is a seasoned astrologer and a key part of the AstroDiem team. Specializing in natal astrology, John blends his education in Philosophy and Psychology to interpret celestial influence on human life. With over two decades of experience, his insights have proven invaluable to individuals worldwide, helping them understand their personalities and life patterns in the light of astrology.