Date of birth: June 21 – July 22
Element: Water
Quality: Cardinal
Ruling planet: Moon
Day: Monday, Thursday
Colour: White
Lucky numbers: 2, 3, 15, 20
Personality Traits of Cancer
| | |
| --- | --- |
| Strengths: | Loyal, empathetic, understanding, honest, reliable |
| Weaknesses: | Conflict-averse, can become possessive, pessimistic, insecure |
| Likes: | Friendships, family time, stability, beach time, good food |
| Dislikes: | Being alone, betrayal, conflicts |
When is a Cancer Born?
Cancers are born between June 21 and July 22. As true summer children, they typically love the beach and water in general. However, Cancers are real homebodies, preferring the comfort of home, so local beaches usually suffice. They don't necessarily need to travel to exotic locales.
The Personality of a Cancer
Cancers are known for their desire for security and family-oriented nature. They value their home and close relationships. A Cancer is a great and loyal friend, always ready to listen and always honest – even when the truth might not be what you want to hear.
Cancers must be careful not to scare off a new partner, as they tend to dive headfirst into love. It's all or nothing. Once in a relationship, a Cancer will do everything to protect it, investing heavily in the partnership.
Cancer's Career and Education
Cancers take pride in completing what they start. In the workplace, a Cancer is a stable and loyal employee, always doing their best and often staying at the same job for a long time. It's not uncommon for a Cancer to celebrate work anniversaries at the same place, as they take pride in job stability, providing the secure home environment they value.
Who is a Good Match for Cancer?
Cancers are very loving and caring individuals who thrive in a stable and secure relationship. Scorpios and Pisces are good matches for Cancers.
Cancer and Scorpio: The Scorpio is the stronger party in the relationship, which is something a Cancer needs. Scorpios tend to be jealous, but it's a plus in this case, as Cancers crave attention and affirmation.
Cancer and Pisces: Both Pisces and Cancers are very caring individuals, making them a good match. However, Pisces tends to be a bit more controlling in the relationship, which is something a Cancer typically needs.
Cancers can find love with most zodiac signs and will go to great lengths to hold onto their chosen partner, regardless of the bumps along the way. They expect the same in return.
Famous People Born Under the Sign of Cancer
If you're looking for like-minded individuals, consider these famous personalities born under the sign of Cancer. You might find you have something in common with them!
Tom Cruise – July 3, 1962
Meryl Streep – June 22, 1949
Selena Gomez – July 22, 1992
Harrison Ford – July 13, 1942
Ariana Grande – June 26, 1993
50 Cent – July 6, 1975
Horoscopes for Cancer: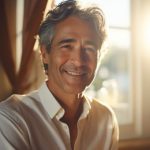 John Anderson is a seasoned astrologer and a key part of the AstroDiem team. Specializing in natal astrology, John blends his education in Philosophy and Psychology to interpret celestial influence on human life. With over two decades of experience, his insights have proven invaluable to individuals worldwide, helping them understand their personalities and life patterns in the light of astrology.