In 2023, there's a high probability that you, as an Aries, will experience significant personal changes. Both personal and professional projects that have been on hold will start to take shape this year. Your ambitions will manifest more tangibly in your daily life. Many things in your life will find their place, after spending the last couple of years experimenting and battling your temptations.
Don't misunderstand life's impacts on you, even if they sometimes seem harsh. 2023 will bring you the ultimate pleasure in life. The planets will assist you in fulfilling your expectations of yourself and those around you. No matter what you do, don't deviate from your planned path. There's a promise of wealth and success in the year's final months.
Career
2023 will be a busy year professionally. The planets will allow you to manage your job while simultaneously undertaking a long-term project. You may find it challenging to get along with your colleagues and superiors.
Strive not to worsen your professional relationships by viewing your own efforts from an objective perspective. Your creative abilities will be the driving force behind almost all your success. End the year with a preliminary career highlight.
Relationships
This year, you and your partner will enjoy a relationship with a higher sharing of interests and ambitions. In other words, you will go through the year together rather than separately. You can expect high stability in your relationship. Romance will be prominently present in your relationship, but be careful not to overlook the other important elements. Your love life will boost your confidence and bring a whole new level of self-satisfaction and meaning to your existence.
Overall, the year will bring optimism concerning your life and love. You'll feel a new spark in your life together if you're already in a relationship. If not, be bold and uncompromising when finding the right one.
Be careful who you bump into. Be selective and don't run from a promise. If you're single, the middle of the year will likely be extremely generous regarding romantic escapades.
Finance
In 2023, your financial situation will see a whole new structure. You will set long-term serious financial goals, rather than short-term consumption goals.
There's a good chance that you will encounter a number of unexpected financial challenges throughout the year. Keep a close eye on these episodes; you will need sufficient financial stability to navigate the rough patches.
Don't expect money to fall from the sky this year – you'll have to work hard and purposefully for it.
Health
Both your mental and physical health seem to be fluctuating and irregular for the first half of 2023. Don't burden yourself more than absolutely necessary.
Enjoy life and relax when the opportunities present themselves. Look inward and ensure that your mind is balanced at the start of the year. If not, you should correct it immediately before it has consequences for your well-being. The second half of 2023 promises good and healthy health in connection with the planets' constellation.
Keep your emotions under control and don't jump into situations that can shake up your thoughts too much. Use your energy on positive things that, through experience, you know are self-reinforcing.
More horoscopes for Aries:
Learn more about the Zodiac Sign: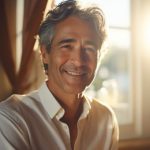 John Anderson is a seasoned astrologer and a key part of the AstroDiem team. Specializing in natal astrology, John blends his education in Philosophy and Psychology to interpret celestial influence on human life. With over two decades of experience, his insights have proven invaluable to individuals worldwide, helping them understand their personalities and life patterns in the light of astrology.