Monthly Taurus Horoscope for December
In the hustle and bustle of life, you'll find yourself surrounded by a constant buzz of activity. Whether it's the lively company of people or the vibrant thoughts within your mind, there's always someone nearby. This month, it's crucial to foster togetherness and nurture your network. This holds especially true for your career, but it extends to your personal life as well. Perhaps there has been some workplace drama, leaving you feeling a bit chaotic. Fear not! On the 2nd, Venus moves into your 6th house, representing your career and work. This celestial shift will bring clarity as to why there have been significant changes in the work dynamics lately. With this cosmic alignment, expect a thorough housecleaning, leaving you with a fresh surge of energy and a newfound joy when stepping into your workplace. How fantastic!
Last month, the lucky planet Jupiter settled into your 7th house, symbolizing commitment. This means your network is growing closer, and over the upcoming year, the alliances you've forged will only enhance your life. The 7th may provide a taste of the good things to come as a new moon brings clarity to your relationships. Exciting progress in matters of love could be on the horizon, especially if you've recently encountered a potential partner. The new moon might even spark discussions about cohabitation or similar steps forward.
For those in a steady relationship, this month will bring you closer than ever. Your bond will strengthen, and you'll feel the deepening connection between you and your partner. On the 22nd, a financial lesson awaits you. Whether it results in a loss or gain, don't take it too lightly or too heavily. Whatever unfolds will have an impact on your plans for this year.
Get ready to ride the waves of connection, as you navigate the ebb and flow of relationships, career shifts, and financial lessons. This month promises an exciting journey, with each twist and turn guiding you toward personal growth and fulfillment. Embrace the power of your network
More horoscopes for Taurus:
Learn more about the Zodiac Sign: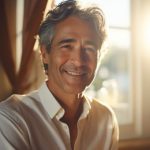 John Anderson is a seasoned astrologer and a key part of the AstroDiem team. Specializing in natal astrology, John blends his education in Philosophy and Psychology to interpret celestial influence on human life. With over two decades of experience, his insights have proven invaluable to individuals worldwide, helping them understand their personalities and life patterns in the light of astrology.