Monthly Scorpio Horoscope for December
Dear friend, get ready for an extraordinary month ahead! You'll soar into the coming weeks with renewed energy and determination, and it won't go unnoticed by those around you. It's as if everyone is vying for your attention, wanting to be a part of your success. The possibilities are endless! Despite some financial challenges, there's no doubt that you have your eyes on the prize, and financial triumph is within your reach. The favorable new moon in your sign on the 7th will bring you one step closer to your dream of financial freedom. This auspicious event is accompanied by Jupiter's fortunate influence, marking the beginning of a new chapter in your professional life. Whether it's launching a new business, taking a leap forward in your current job, or climbing higher on the career ladder, this month holds great promise for you.
Mercury gets back on track after a period of retrograde on the 6th. From there, it moves into your sign on the 12th, providing an additional push for you to embrace taking chances both in your work life and personal life. The good news is that you'll have luck on your side in most of your endeavors. Enjoy this favorable position and make the most of it! With Mercury in your sign, difficult decisions will become easier, and communication will generally flow in your favor. If you have a cause close to your heart, speak up about it during this period and you may gather supporters. You might even gain a significant voice in your local community or an influential association.
There's also a lot to look forward to on the love front. An intriguing event around the full moon on the 22nd will bring you closer to your significant other. Perhaps you'll decide to get away for a while or choose quality time over a hectic schedule. The idea of buying a house may even come up. During these days, it's possible that a family member will reach out to you for help. Given your surplus of energy, both you and your family member will emerge stronger on the other side. Towards the end of th
More horoscopes for Scorpio:
Learn more about the Zodiac Sign: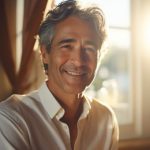 John Anderson is a seasoned astrologer and a key part of the AstroDiem team. Specializing in natal astrology, John blends his education in Philosophy and Psychology to interpret celestial influence on human life. With over two decades of experience, his insights have proven invaluable to individuals worldwide, helping them understand their personalities and life patterns in the light of astrology.