2023 will be a year where social aspects, family, and friends take center stage for you, Capricorn. Harmony will be the key in almost all respects, a welcome change that you've been longing for.
Despite challenges, most things will work out for you in 2023. You'll be busy on all fronts – travel, work, and love – and you'll need your loved ones to support you when the pressure mounts. Around mid-year, you might feel overwhelmed, but don't worry, you'll bounce back quickly. Don't let a brief slump affect your long-term plans.
Your anxiety and worries stem from a lack of responsibility and effort, but 2023 will be different – both professionally and personally. Use this year to prove to yourself and others that you've found your path and have the willpower to follow it.
Career
In 2023, your creativity will be your driving force. Take the necessary risks to reach your creative goals, and you'll see plenty of rewards by year's end. Hold on to the opportunities you have, as many of them may not come around again.
This is also the year for better compensation. Whether this comes in the form of a raise or new activities is up to you. Try to collaborate with your colleagues to achieve all your tasks. If you're employed, the year looks promising career-wise, while entrepreneurs should stay focused to achieve the best results.
Relationships
The prospects for a fulfilling love life look good in 2023. Focus on caring for your partner's well-being this year and reap the rewards together! For those who are single, there's a good chance that a new romantic relationship could arise from a friendship that continues to grow.
The middle of 2023 may unfortunately bring some misfortune in love. Misunderstandings and obstacles that are out of your control may lead to a temporary separation, but by the end of the year, passion will bring you back together. Be patient in your relationship. The better things are before summer, the better they will be after.
Finance
In 2023, you'll get a firm handle on your finances. You'll develop a better understanding of your spending and expenses. Business-wise, you're set to grow and end the year with a healthier bank balance.
Always keep an eye on the upcoming months and set aside money for any unexpected expenses. Be cautious about taking out loans this year and expect a few tough decisions investment-wise.
Health
2023 promises good health, a healthy lifestyle, and high spirits. Your energy will be in full bloom from the start of the year and throughout. One thing you'll notice is that you're surrounded by optimism, which will make many decisions easier for you.
However, make sure to keep your mind and body in balance to avoid burnout. Get enough exercise, avoid stress when things get heated, and last but not least, break free from your bad habits.
More horoscopes for Capricorn:
Learn more about the Zodiac Sign: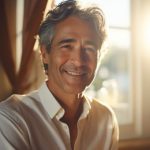 John Anderson is a seasoned astrologer and a key part of the AstroDiem team. Specializing in natal astrology, John blends his education in Philosophy and Psychology to interpret celestial influence on human life. With over two decades of experience, his insights have proven invaluable to individuals worldwide, helping them understand their personalities and life patterns in the light of astrology.