Date of birth: November 22 – December 21
Element: Fire
Quality: Mutable
Ruling planet: Jupiter
Day: Thursday
Colour: Blue
Lucky numbers: 3, 7, 9, 12, 21
Personality Traits of Sagittarius
| | |
| --- | --- |
| Strengths: | Intelligent, curious, creative, carefree |
| Weaknesses: | Easily distracted, temperamental |
| Likes: | Intelligent conversations, traveling, new experiences |
| Dislikes: | Monotony, repetition, the daily grind |
When is Sagittarius Born?
Sagittarius is born between November 22 and December 21. The dark and cold winter period is the exact opposite of the Sagittarius, who is full of life, warmth, and joy. It's not uncommon to find a Sagittarius under more exotic skies when darkness falls at home.
Sagittarius Personality
A Sagittarius needs a lot of room to breathe, both physically and mentally, in all aspects of life. Settling is like hitting the pause button on life, and Sagittarius wants to live every day as if it were the last.
A Sagittarius prefers to fill everyday life with diversity, appointments, new experiences, and travels – preferably to exciting places rather than typical tourist destinations.
Sagittarius is a social individual who enjoys having people around and approaches everyone with an open mind – both in everyday life and on many adventures. Deep conversations about life's big questions are among Sagittarius' favorite pastimes.
Sagittarius Career and Education
Sagittarius needs diverse and varying work tasks, a large number of challenges, and freedom. Trivial work is the worst thing for a Sagittarius. Some of the job titles that would suit a Sagittarius are researcher, photographer, and travel agent, but also other areas where Sagittarius can work freelance and thus create a certain freedom in both work and travel life.
The desire for freedom can, however, collide with the same desire for good economics, which can carry Sagittarius through all that he wants to experience – and which often costs a certain amount of money.
Who is Sagittarius Compatible With?
Sagittarius needs constant stimulation and activity. However, this does not change the fact that Sagittarius would like to have a stable partner to share all the new experiences with. This is best found in Aries or Leo.
Sagittarius and Aries: Despite a mutual strong temperament, Sagittarius and Aries typically live in a predominantly harmonious relationship filled with activities, travels, and zest for life.
Sagittarius and Leo: The desire to travel and expand their social circle is the common denominator in the relationship between Sagittarius and Leo. Both enjoy a life of freedom, which gives mutual respect and understanding.
Sagittarius is loyal and trustworthy and is therefore a desirable and good partner for most – regardless of the zodiac sign. However, it is important to remember that freedom is a big part of Sagittarius' life, and a relationship will certainly be easier with a partner who wants the same freedom and desire to experience.
Famous People Born Under Sagittarius
If you are born under the sign of Sagittarius, you will typically have a lot in common with others born under the same sign. Below we have gathered a number of celebrities who are all born under the sign of Sagittarius. Maybe you can see yourself in some of them.
Brad Pitt – December 18, 1963
Britney Spears – December 2, 1981
Jamie Foxx – December 13, 1967
Jane Fonda – December 21, 1937
Christina Aguilera – December 18, 1980
Jay Z – December 4, 1969
Horoscopes for Sagittarius: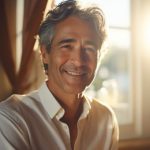 John Anderson is a seasoned astrologer and a key part of the AstroDiem team. Specializing in natal astrology, John blends his education in Philosophy and Psychology to interpret celestial influence on human life. With over two decades of experience, his insights have proven invaluable to individuals worldwide, helping them understand their personalities and life patterns in the light of astrology.