Throughout 2023, you'll experience a surge in self-confidence and a stronger belief in your abilities. You'll be able to accomplish more than you have in the past few years. However, this is contingent on your prioritization. Focus on the aspects of your life that hold the highest value. Your relationship may be at risk this year. Pessimism could bring everything down, so instead, give it time. Sometimes the old saying rings true: "Time heals all wounds".
Be mindful of your work planning at the start of the year. Private matters could interfere with your professional life. Charitable and empathetic tasks will catch your attention, and you should expect to spend time on these. Your cards show a luckier and more successful year than ever before.
Career
Expect a busy year in terms of work. You'll have a high energy level, a significant portion of which will be invested in your job. If you're a business owner, the year will be exceptionally good, with ample opportunities for expansion. If you're in an artistic profession, the year will bring you good opportunities to advance your career.
The first half of 2023 will unfortunately involve some friction between you and your colleagues, and there will be projects that don't conclude as you hope. Teamwork is not the key to start with in 2023. Believe in yourself – the second half of the year will compensate for the first and much more.
Relationships
This year, if your relationship is not more than a few years old, you'll find it easy to nurture. If you've had the same partner for several years, there may be bumps in the road. Avoid being too impulsive in your approach to your partner, as this can push them away.
Thanks to your critical self-assessment recently, you'll find it much easier to attract the opposite sex in 2023. But be careful with your feelings, as they can easily cause you to get burned. The keywords for a good relationship this year are tolerance and patience. Use your partner as a support point. This year, they will have a lot of surplus, which you can also partake in. If you're single, the key is to get out and meet new people.
Finance
Thanks to your hard work, your finances will reach new heights in 2023. Be careful not to be too complacent and irresponsible in your spending – instead, save your money. 2023 will require a stable economy. You'll need to set a new budget and get better at saying no to spontaneous and irrelevant purchases.
By the end of the year, things won't look as rosy, so be thoughtful in your financial planning. Watch out for scams and always double-check transfers and electronic payments. Around the middle of the year, you'll collect considerable sums. If you're self-employed, the year will be extra fruitful.
Health
Generally, your health looks positive in 2023. Nonetheless, you should focus on taking it easy once in a while. Your body and psyche need renewal regularly. This will keep you spiritually upright and benefit all facets of your existence. The year progresses well until mid-year, when minor health problems may arise. The nature of these could very well be stress-related. If you've planned changes for 2023, make sure to keep the momentum up throughout the year.
More horoscopes for Virgo:
Learn more about the Zodiac Sign: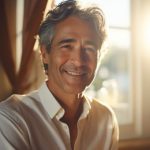 John Anderson is a seasoned astrologer and a key part of the AstroDiem team. Specializing in natal astrology, John blends his education in Philosophy and Psychology to interpret celestial influence on human life. With over two decades of experience, his insights have proven invaluable to individuals worldwide, helping them understand their personalities and life patterns in the light of astrology.